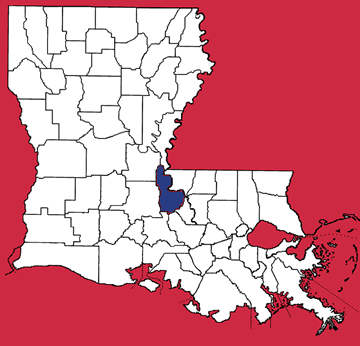 Today, Pointe Coupée Parish is perhaps best known as the birthplace of noted American author Ernest J. Gaines.  Pointe Coupée was one of the original nineteen parishes in Louisiana.  In 1808, Pointe Coupée earned the distinction of being the first Louisiana parish to establish public schools.
The name Pointe Coupée, which means "cut off point," originated from Iberville's exploratory trip up the Mississippi River in 1699.  During this excursion, Iberville discovered a twenty-two mile-long oxbow curve that caused the river to change course to follow the shortcut.  The oxbow now is False River, a foremost geographic feature of Pointe Coupée Parish.
Initially settled by Canadian trappers in 1708, the parish later became a stronghold of the Acadians in the late eighteenth century.  During the antebellum period, sugarcane and cotton production were the mainstays of the economy.  Present-day Pointe Coupée Parish, with a population slightly over 22,000, still receives substantial revenues from sugarcane and cotton, as well as soybeans.  In addition to agriculture, the parish's economy is also based on cattle, and other industries such as the grain elevator, garment factory, and sugar mill.
Pointe Coupée Parish offers a wealth of history, culture, and celebrations.  Festivals begin with Mardi gras parades and continue with the annual antique show, old-fashioned church fairs, farmers markets and craft bazaars, 4th of July activities, Christmas parades, and the season finale, Noel Sur La Fausse Riviere in New Roads.  For visitors who wish to stay overnight, there are several bed & breakfast homes available.
by Alana A. Carmon