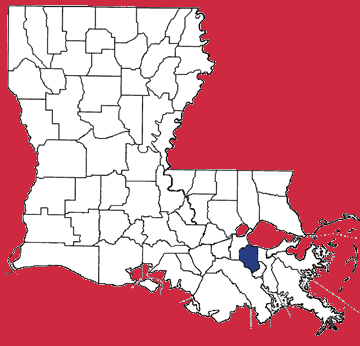 St. Charles Parish is one of two parishes that comprise the Cote des Allemands or German coast, a stretch of terrain on the Mississippi River above New Orleans.  The coast was originally one of twelve Territory of Orleans counties created in 1805.
Two years later, in 1807, when the territory was re-divided into nineteen parishes, St. Charles Parish was formed.
After John Law's Company of the West unsuccessfully attracted companies to settle in the Louisiana Territory, news began to spread about the available land.  In an effort to escape war and ensuing French Occupation, German peasants sought a better life with more opportunities in the New World.  In 1720, German yeomen were reportedly the first group to settle in St. Charles Parish.
Prior to the arrival of German peasants, the French colony largely consisted of criminals and vagabonds deported from France.  Some of the German descendants still reside in the area, though their names have been altered by French and English spellings and translations.
Formerly the center of plantation aristocracy, the economy St. Charles is heavily based on the petrochemical industry as well as sugarcane production on a lower level.  At the restored Destrehan Plantation and Ormond Plantation, visitors are able to re-live the legendary antebellum era however.
Both tourists and residents enjoy seafood, a mainstay at parish fairs and festivals, including the Louisiana Catfish Festival in Des Allemands, Boutté's Alligator Festival, and the Destrehan Plantation Fall Festival.  With bayous, lakes, swamps, and the Mississippi River nearby, St. Charles Parish is also ideal for fishing, water skiing, boat riding, and other water sports.
by Alana A. Carmon