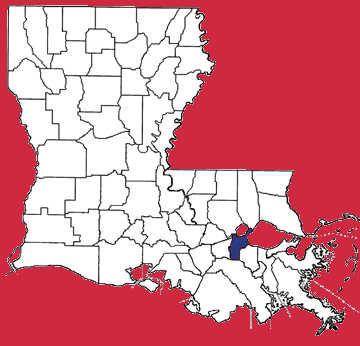 Established in the early 1720s by German immigrants, St. John the Baptist Parish is one of the oldest settlements in the Louisiana Purchase territory.  The German settlements along the Mississippi River in modern-day St. John and St. Charles parishes were collectively known at the German Coast.
During the colonial period, members of various French-speaking groups settled alongside the Germans in the upper German Coast.  With the arrival of the French in St. John Parish, the German and French cultures mixed, and French eventually became the dominant language.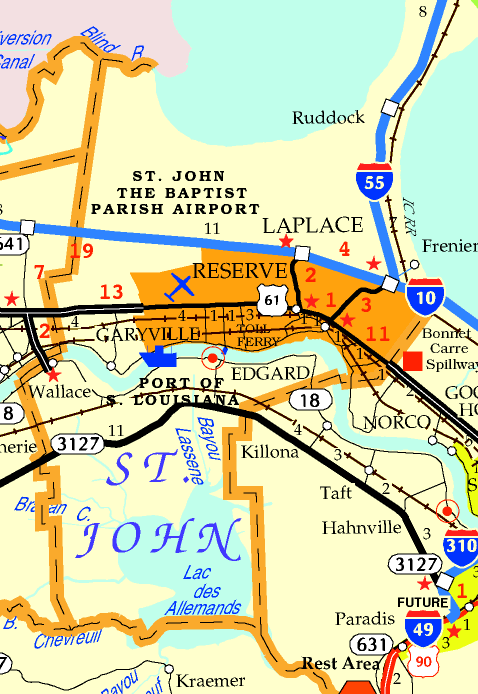 St. John was one of twelve Territory of Orleans counties created in 1805, and it became one of Louisiana's original nineteen parishes in 1807.
Early residents of St. John Parish found the area to have excellent farmland and frequently grew surplus crops that were sold at "The French Market" in New Orleans.  Today, the economy of St. John Parish is based on petrochemical industry and sugarcane production, a commerce that the Jesuit Fathers introduced in 1751.  The area is home to the oldest continuously operating sugar cane refinery in the United States.
St. John Parish is also home to Evergreen, a plantation with "flying staircases" that has been the site for several movies.  Both visitors and residents enjoy the Christmas Eve bonfires along the levee and the world famous Andouille sausage, a spicy, smoked local specialty handed down from 18th- and 19th-century ancestors.  Annual festivals include the Andouille Festival in October and the Timbermill Museum festival on the fourth weekend in October.
by Alana A. Carmon