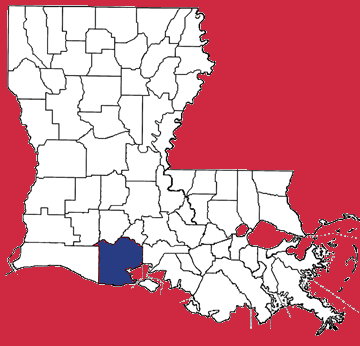 Vermilion Parish, created in 1844, boasts of a population of approximately 53,000.  Acadian exiles moved into Vermilion Parish in the late eighteenth century and were among the first to settle the region.  Anglo-Americans and African-Americans, who were introduced as slaves on the sugar cane plantations, later joined the French-speaking Acadians.  The parish's population, however, has remained predominantly Cajun, and region boasts one of the state's highest concentrations of Cajuns.
Traditionally, rice, ranching, and sugarcane have been staple industries in the area.  Sugarcane plantations line banks of the Vermilion River in the northern parish, and the world-famous cane syrup manufacturer Steen's Syrup Mill is located in nearby Abbeville.  Vermilion Parish is also noted for its ranching and cattle industries.  During the spring and fall seasons, cattle ranchers lead their herds up from the marshes on 
horseback, reminiscent of the Old West cattle drives.  Delcambre, on the other hand, is noted for its picturesque shrimpboats, docks, and seafood processing facilities.
There are several wildlife refuges in the parish, with the coastal marshes providing scenic drives.  Some of the oldest hunting camps in the United States are in the coastal marshland regions, and prominent families such as the Rockefellers were once among their most notable guests.  The small towns dotting the countryside still have thriving and attractive downtown areas.
Abbeville, one of the state's most frequently photographed towns, has been the setting for several major movies over the past two decades.  Abbeville's physical layout is modeled upon that of European towns of comparable size, with civil and church squarse.  Erath boasts not only Acadiana's largest Fourth of July celebration, as well as an important cultural museum.
by Elista Istre