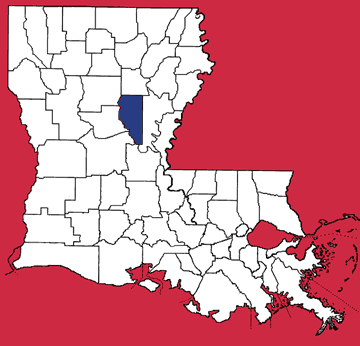 On January 1, 1910, the Louisiana legislature carved LaSalle Parish from the western portion of Catahoula Parish.  The early settlers of what later became LaSalle Parish engaged in hunting along with the Indians.  Their daily sustenance came from cornbread and domestic meats such as bear, deer, and turkey.
Unlike early settlers, modern-day residents, who number over 13,600 (2000 census), are engaged in farming, with a substantial percentage of the parish's economy resulting from agricultural production.  Principal crops include cotton, peanuts, corn, and sweet potatoes.  The parish also receives revenues from the cattle, forestry, and petroleum industries.
LaSalle's parish seat, Jena, bears the distinction of having had Louisiana's first female mayor.  Lula V. Coleman was appointed mayor in 1920 by then Governor John M. Parker.  Other interesting facts about LaSalle Parish's history are present at the parish museum.
by Alana A. Carmon