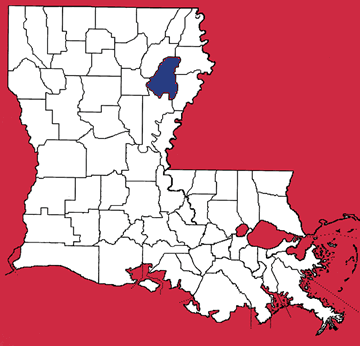 Named in honor of Benjamin Franklin, Franklin Parish was established in 1843.  
Ouachita and Catahoula parishes contributed to Franklin Parish's 623 square-mile territory.  Franklin Parish boasts a population of slightly over 22,000 residents and receives revenues from agriculture, forestry, oil and gas production.  Chief crops include cotton, corn, soybeans, potatoes, and peanuts.
According to legend, the region's earliest settlement occurred when two keelboats overloaded with machinery simultaneously ran ashore.  One boat contained a cotton gin and the other a device for a sawmill.  Rather than reload the boats, the boatmen supposedly decided to settle there.
During the early nineteenth century, permanent settlers began to arrive in significant numbers.  They were mostly French and with their household furnishings and slaves, they were well equipped for permanent settlement.  Remnants of early Franklin Parish are present in the Jackson Street Historic District and the classic Chennault House.
by Alana A. Carmon