Plaquemines Parish is a peninsula, bordered by the Gulf of Mexico and paralleled by the Mississippi River.  With 1,584 square miles of water and nearly two-thirds of the land as coastal marsh, the parish contains approximately ten percent of the United States' wetlands.
Created in 1807, Plaquemines was one of Louisiana's original parishes.  Various Native American tribes resided in the Plaquemines area for centuries until the arrival of European immigrants in the eighteenth century.
During the 1770s, the area witnessed a significant increase in population with the arrival of Acadian refugees from Canada.  Additional settlers from the Canary Islands also immigrated to the bayous and streams of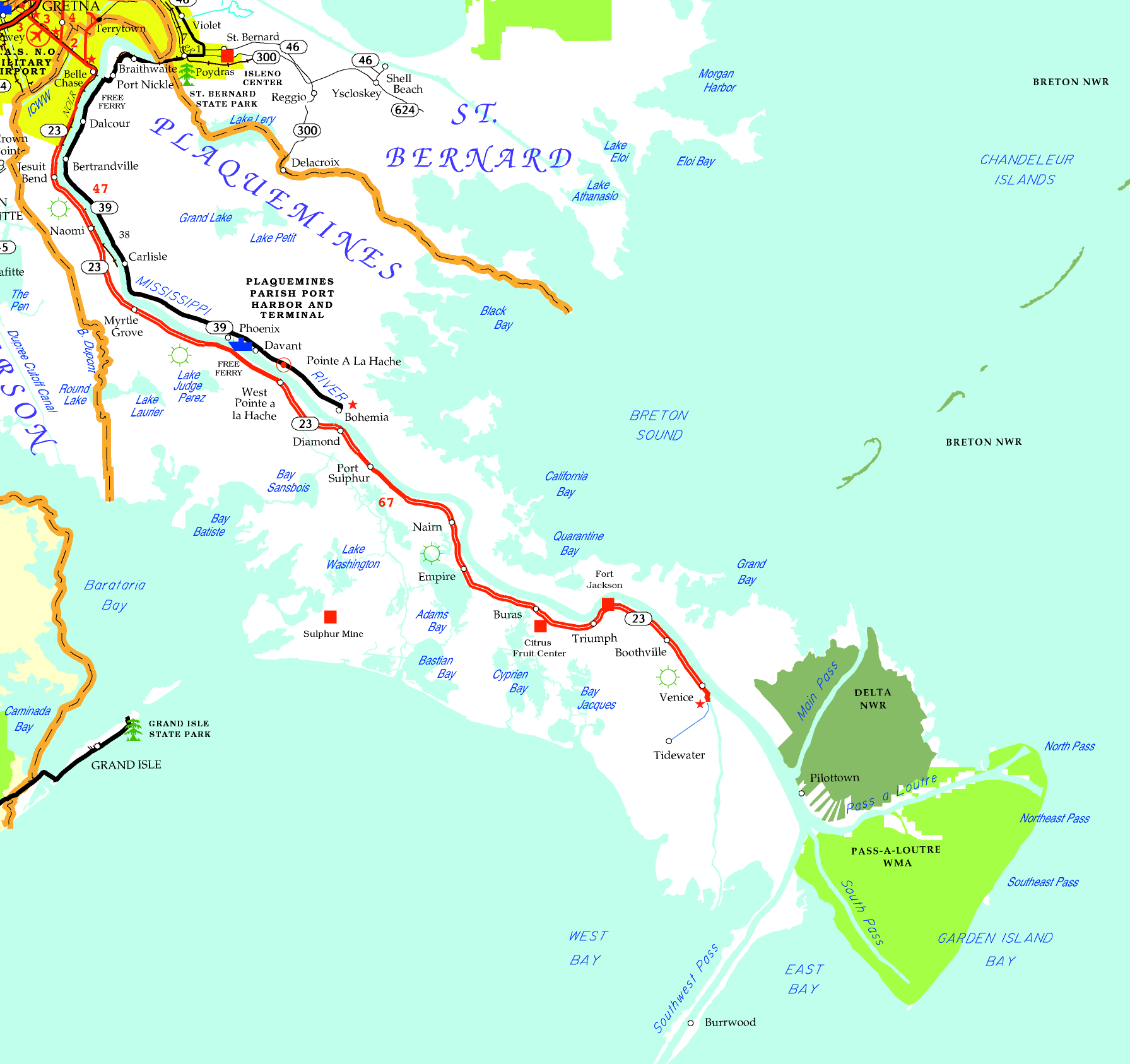 Plaquemines at the close of the century.  Today, the parish boasts a population of over 25,000 individuals from Acadian, Creole, German, Spanish, Vietnamese, Filipino, and Croation pedigree.
Plaquemines Parish's economy is based on oil, gas, and sulphur production, citrus crops, and seafood production.  In seafood production alone, over sixty million dollars of products are exported internationally.  Some of the cargo includes oysters, shrimp, crawfish, and crabs.
Serving as both the beginning and end of the Great River Road, Plaquemines Parish offers many activities for visitors.  Tourists can stroll back in time at Historic Fort Jackson (constructed in 1832) or engage in the water sport of fishing at any of the numerous marinas available.  Throughout the year there are several festivals and events such as The South Pass Tarpon Rodeo and The Plaquemines Parish Fair and Orange Festival, which celebrate the parish's unique culture.
by Alana A. Carmon