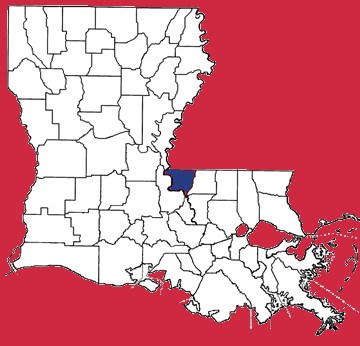 Nestled on the east bank of the Mississippi River lies West Feliciana Parish, the smallest of the "Florida Parishes."  West Feliciana was established in 1824, when the old parish of Feliciana (Spanish for "happy land") was divided in half.
The early settlers of Feliciana arrived at the end of the eighteenth century and were mostly Anglo-Americans, although many were of French and Spanish descent.  They resided along the Mississippi River, particularly in the St. Francisville area, where they grew and exported substantial amounts of tobacco.
After the Revolutionary War and the Treaty of 1795, offers by Spanish authorities attracted emigrants from West Florida and the western states to settle in the Feliciana district.  Groups from the Carolinas, Georgia, and Virginia also re-located to the area.
West Feliciana Parish is home to the West Feliciana Railroad, which was charted in 1831. It was the third oldest in the United States, but first to have a "standard gauge railroad" system.
West Feliciana is also home to the vast Louisiana State Penitentiary in Angola.  A substantial portion of the parish's economy is derived from the service of this prison.  Additional revenues for the parish come from the agriculture and tourism industries.
The vast majority of tourists are attracted to antebellum cotton plantations in the historic town of St. Francisville, the parish seat of West Feliciana and the third oldest settlement in Louisiana.  One of the most popular plantations, Rosedown, has an estimated 50,000 visitors annually.  History lovers are also encouraged to take the "Walk Through History" tour that interprets over 140 structures on the National Register of Historic Places.  It is a "must" that you also visit the West Feliciana Historical Society Museum, home of the Audubon Pilgrimage each March.  Several thousand people attend this event annually to honor the parish's most famous visitor, John James Audubon.  Audubon became famous for his "Birds of America" series, 80 of which he painted in West Feliciana.
by Alana A. Carmon