Louisianians have traditionally regarded Avoyelles Parish as the primary convergence zone in which predominately Protestant north Louisiana abuts predominately Catholic south Louisiana.  Avoyelles Parish is a land of striking physical and demographic contrasts—simple frame country churches and elegant antebellum mansions, languid streams and interstate highway.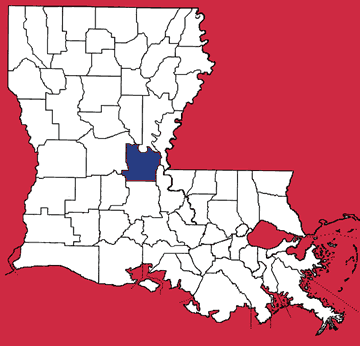 Members of the Avoyelles tribe were the parish's indigenous population at the time of the earliest European contacts.  They were joined in 1764 by various other small French-allied Native American groups.  One of these groups, the Tunica, eventually absorbed the Avoyelles. French-speaking immigrants from other Mississippi Valley communities converged upon the parish in the 1780s.
By the mid-1780s, the Louisiana colonial government established the Avoyelles district and appointed a local commandant.  Four years after the Louisiana Purchase (1803), the legislative council of the Territory of Orleans, including most of the present Pelican State, created Avoyelles Parish.  The community of Marksville was formally designated as the seat of justice and government in 1818.
Avoyelles Parish is a region of lush river bottoms, picturesque small towns, and historic buildings and sites.  The parish's population, which numbered 41,481 in 2000, consists primarily of white Creoles, African-Americans, and Native Americans.
The region is best known for the popular Cochon de Lait Festival and for the casino at Marksville.
By Carl Brasseaux