Present-day Evangeline Parish boasts a population of over 35,000 and a landmass of 700 square miles.  Evangeline Parish is one of Louisiana's youngest parishes.  Created in 1910 from the northwest portion of St. Landry Parish, Evangeline Parish bears the name of Longfellow's tragic Acadian heroine, ostensibly in honor of the local residents' reputed Acadian heritage.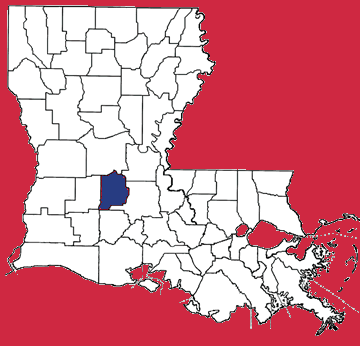 The parish, however, was initially settled by immigrants from the French garrison at Fort Toulouse (near present-day Montgomery, Alabama) who began settling the area in the late 1700s.
  African-Americans and Creoles of Color subsequently immigrated into the region, as did Anglo-Americans, who were some of the first Protestant settlers west of the Mississippi River.  These Protestant pioneers settled in the northern portion of the parish where the prairies end and the hills begin.
The parish's principal towns include Ville Platte, the parish seat and home of the Cotton Festival; Mamou, famous for its country Mardi Gras (Courir de Mardi Gras); Basile, host of the Swine Festival; Bayou Chicot, home to the Louisiana State Arboretum and Chicot State Park; Turkey Creek; and Chataignier.
Cattle ranching and cotton farming have traditionally been the most important industries in the parish.  In recent times, however, aquaculture, including crawfish harvesting and rice production, have transformed the region's economy.
As a cradle of Cajun and Zydeco music, Evangeline Parish holds an important place within the music world.  Every Saturday morning, a live broadcast of Cajun music is produced at Fred's Lounge.  Grammy Award nominees Steve Riley and the Mamou Playboys are international ambassadors of Cajun music.  Floyd's Record Shop in Ville Platte is an internationally known Cajun and Zydeco music distributor.
by Elista Istre