Created in 1807, Lafourche was one of the original nineteen parishes in Louisiana.  With fertile land and a navigable bayou, there was little difficulty in attracting settlers.  Germans, French, Spanish, and Acadian settlers moved into the area during the mid-eighteenth century.
With nearly 100 miles of uninterrupted stores, houses, and other buildings along the bayou, Lafourche Parish is frequently labeled as having the "longest street in the world."  Bayou Lafourche, a former course of the Mississippi River, curves southward for over a hundred miles from Donaldsville in Ascension Parish and traverses the length of Lafourche Parish, before reaching a terminus at the Gulf of Mexico.
Lafourche Parish currently boasts a population of nearly 86,000 and occupies 1,471 square miles, with 387 miles consisting of water.  The economy of the parish is based on oil and gas industries, forestry, seafood canning, boat building, and agriculture.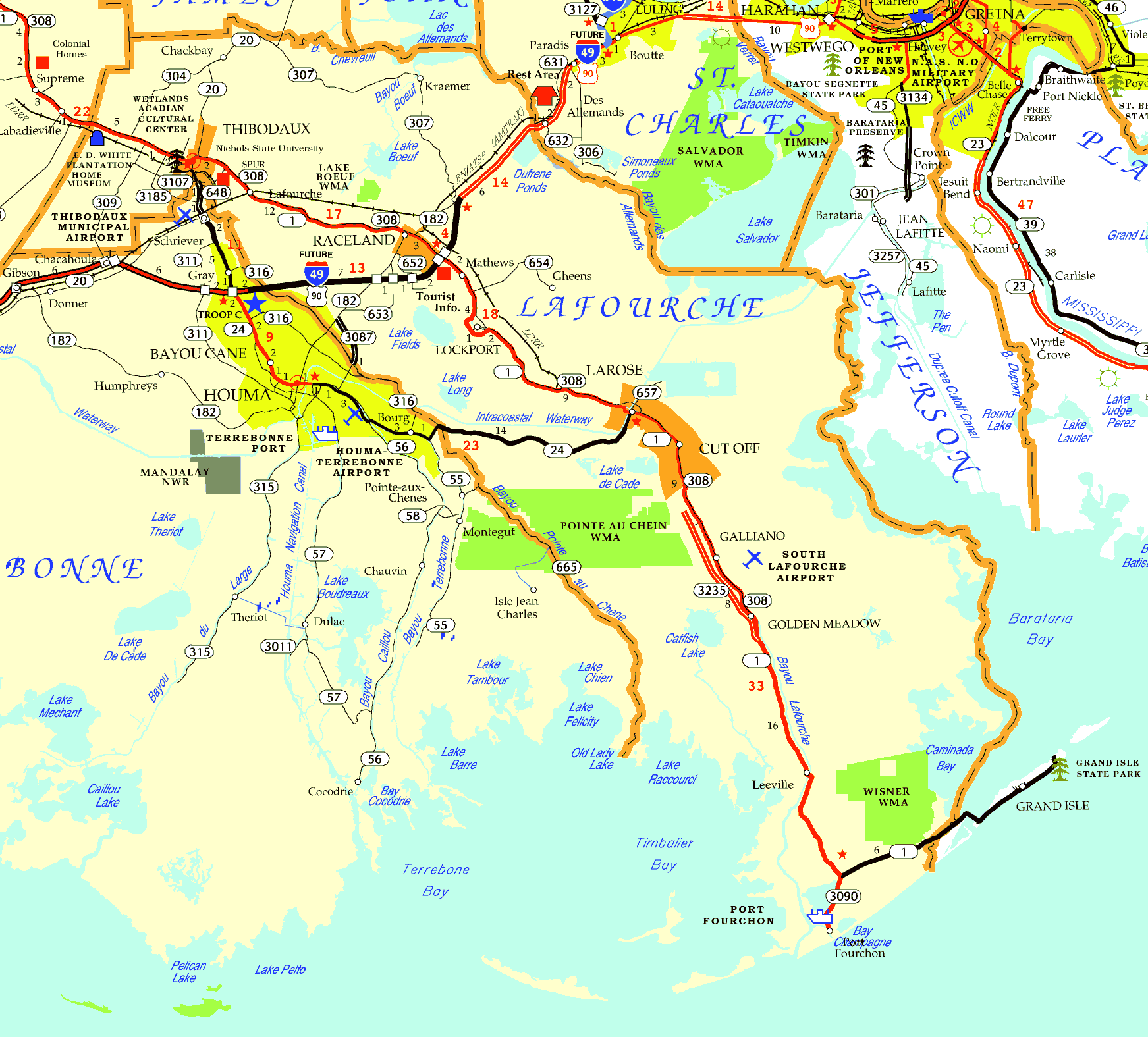 Major agricultural crops include corn, potatoes, and sugarcane, with sugarcane production being the most lucrative.
Lafourche Parish offers many attractions for the tourist: plantation homes, antique shops, swamp tours, charter fishing, festivals, and Mardi Gras celebrations.  Other attractions include the Wetlands Acadian Cultural Center and Laurel Valley Village, an operating 19th-century sugar plantation.  Tourists also visit St. John's Episcopal Church, the oldest Episcopal church west of the Mississippi and St. Joseph Catholic Cathedral, which contains ornate artwork and is listed on the National Register of Historic Places. Tourists enjoy the cuisine as well.  The town of Raceland is known as the "Sauce Piquante Capital of the World," a rich, spicy sauce used to flavor chicken, shrimp, and other dishes.  Residents claim, "Once you drink Bayou Lafourche water (sauce piquante) you will always return."
by Alana A. Carmon