Trevian Ambroise
Martin Family Assistantship Recipient
Tre is a senior History major from Broussard, Louisiana. He works with the Center for Louisiana Studies through the Martin Family Assistantship and researches the historic Black communities in New Iberia. Outside of research and being a student, he enjoys being involved on campus, gardening, genealogy, crabbing, and rewatching his favorite tv shows.
 

Julie Babineaux
Student Assistant, Bookkeeping and Fulfillment
Julie is a Vermilion Parish native and has spent the majority of her life residing in Cow Island, Louisiana. She is studying for her undergraduate degree in Traditional Music, with a concentration on bass, and a History minor. Julie assists with shipping/fulfillment and more recently has been organizing projects through UL Press and Center for Louisiana Studies to promote Louisiana culture through music. She enjoys the familiarity and quietness of the center and loves being surrounded by books all day. You can usually find Julie playing music or making coffee.


Ethan Eddy
Graduate Assistant, Archival Aide

Ethan is a graduate assistant at the Center for Louisiana Studies. He graduated in 2020 from the University of Louisiana at Lafayette with a BA in English and a minor in French.  He is currently working toward his MA in Professional Writing. Ethan edits and formats the archives and collections that the center holds. He specializes in editing both English and French archival documents and social media analytics. He is a Breaux Bridge resident and has worked for the Rayne Chamber of Commerce as a grant writer, content writer, and social media marketer.
 

Miranda Heaner
Graduate Assistant, Archival Aide

Miranda is a first-year MA student in French with the Department of Modern Languages. She is originally from Los Angeles, but she has lived everywhere from Chicago to Strasbourg, France. She received her BA in French and in International Studies from Northwestern University, where she wrote an undergraduate thesis on antisemitism, homophobia, and the duality of belonging as seen in multiple volumes of Marcel Proust's In Search of Lost Time. Her current research topics include Mardi Gras traditions and Schwäbish-alemannische Fastnacht celebrations in Switzerland, the sociolinguistics of code-switching, and traditional Cajun music. In her spare time, she loves to knit, spend time with friends, and play with her cat, Puck.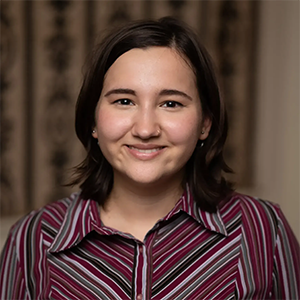 Macey Ory
Graduate Assistant, Content and Marketing
Macey is from Covington, Louisiana, but received her BA in English Literature with a minor in French at Louisiana Tech University in Ruston. Currently, she is working on her MA in English with a concentration in Professional Writing at UL Lafayette. She is a graduate assistant at UL Press, writing blogs and creating social media content. Macey has loved getting to know the different cultures across Louisiana while moving around for school, and she enjoys exploring the history and culture of the state further through her research at UL Press. One of her favorite things about her work is the opportunity it provides to share her appreciation of Louisiana. She has a wide variety of hobbies, but lately in her spare time you can usually find her in the kitchen learning to cook something new.
 

Megan Wittenberg
Graduate Assistant, Archival Aide
Megan was born and raised in Lafayette, Louisiana. She is currently a first-year in the Public History graduate program with a focus on European history. She received her BA in History with a minor in French from UL Lafayette. In her current job at the center, she works with the Dr. Patricia Rickels student files, which focus on Dr. Rickels's folklore and culture classes taught at UL Lafayette. The files consist of hundreds of student papers and taped interviews from the late 1960s to early 1970s, and Meagan has enjoyed learning about all the local folklore beliefs and traditions. She finds it interesting and exciting that these beliefs have so much history and have been passed down mostly intact. Megan is also fluent in French and is a huge fan of Taylor Swift and Marvel.