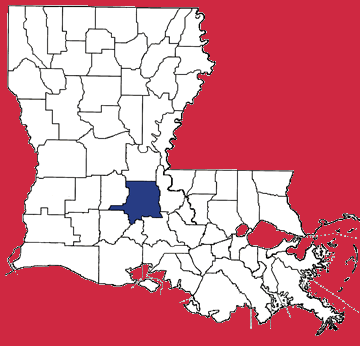 Created in 1807, St. Landry Parish, which has a population of nearly 88,000, produces a variety of crops, including rice, cotton, yams (sweet potatoes), corn, soybeans and sugarcane.  Until recent times, St. Landry Parish was considered a microcosm of Louisiana because of the ethnic and religious composition of its population.
In the northern portion of the 937 square mile parish, the majority of the population is Protestant and white, while the southern region is composed primarily of Cajuns, Creoles, and African-American Catholics.  The parish was named in honor of Saint Landry, a Catholic priest who founded the Hotel Dieu in Paris in the sixth century.
Opelousas, the parish seat, is home to the Yambilee Festival.  Other important St. Landry towns include Port Barre, Sunset, and Eunice, the parish's largest city.
  Washington and Grand Coteau are both well-preserved nineteenth century towns and offer the visitor a wide variety of historic attractions that include a 300 year old Jim Bowie Oak tree and several museums.
As the birthplace of zydeco music, St. Landry Parish has been the home of many famous zydeco musicians like a Grammy Award winner named Clifton Chenier.  The Southwest Louisiana Zydeco Music Festival, held at Plaisance, is a local expression of a musical style that has spread throughout the globe.  The Liberty Theatre in Eunice hosts a weekly Rendezvous des Cajuns radio show in which local artists play traditional French music for the audience.  (A portion of the seating area has been modified into a small dancefloor.)  Because of its great diversity, St. Landry Parish is one of the most distinctive of all the Acadian parishes.
by Elista Istre