Encompassing an area of only 194 miles, West Baton Rouge is one of Louisiana's smallest parishes as well as one of the oldest.  Created on March 31, 1807, West Baton Rouge was one of nineteen original parishes established by the Orleans Territory's government.
Prior to the arrival of the Acadians in the late eighteenth century, the Bayougoula Indians occupied the backwoods region.  During the nineteenth century, the area witnessed a heavy influx of Anglo-Americans and African-American slaves.  From the colonial era until late-twentieth century, when industry developed in the area, West Baton Rouge Parish was largely rural and agricultural.  Today their economy is still based on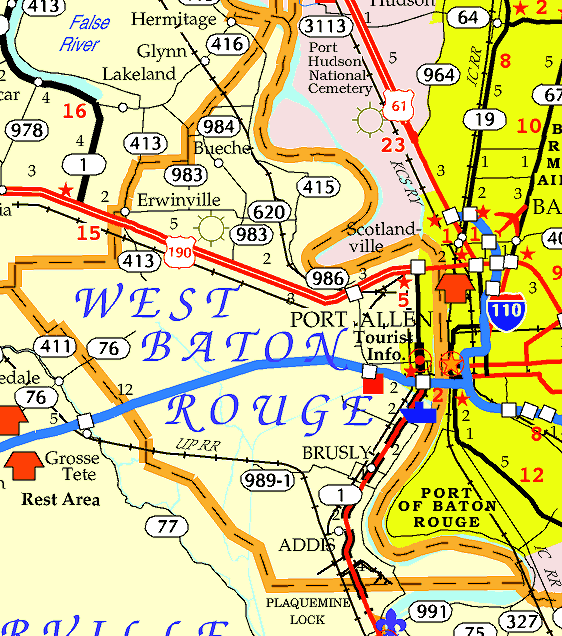 agriculture; principally sugarcane, corn, and soybeans, but they also receive revenue from port activity and diversified industry.
Several plantation homes, the Cinclare Sugar Mill, and other attractions are among the many points of interest in West Baton Rouge Parish.
Other popular sites include the West Baton Rouge Museum, the Addis Historical Museum, West Baton Rouge Parish Courthouse, and the Port Allen Lock.  Festivals and events, such as Mardi Gras, Living History Days, Feast on the Levee, and Annual Sugar Fête also abound in West Baton Rouge Parish.  West Baton Rouge Parish, currently home to just over 19,000, was also home to former Governor Henry Watkins Allen, who during the Civil War skillfully oversaw the section of Louisiana that was not occupied by Federal troops.  Port Allen, the seat of West Baton Rouge Parish, bears his name.
by Alana A. Carmon