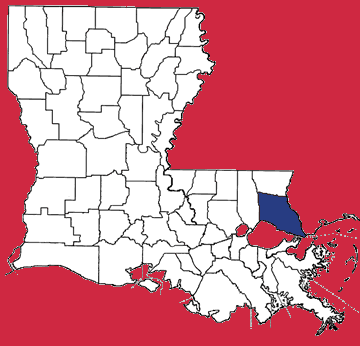 St. Tammany Parish lies in the extreme southeastern corner of Louisiana.  Founded in 1810, its earliest inhabitants were Native Americans, and the first European explorers arrived in the mid-1700s.  After the American Revolution, some emigrants from Georgia, Virginia, and the Carolinas settled in the area through liberal land grants, but the largest influx in population was not until the close of the Civil War in 1865.
In the mid-nineteenth century, it was discovered that the springs around Covington contained medicinal properties and since then it has been a popular health and vacation resort.  The most famous spring, Abita, daily produces and exports thousands of gallons of water.
St. Tammany's other major industries include shipbuilding, the forestry industry, commercial fishing, nurseries, farming, and livestock.
Less than thirty miles from the New Orleans metropolitan area, St. Tammany also serves a "bedroom community" for commuters.  The construction of a 23.87 mile causeway in 1957, which became the longest highway bridge in the world, made St. Tammany an excellent place to live for those who wanted to escape the city, yet still remain close to it.
In addition to resorts, St. Tammany has a wealth of festivals and events that attract tourists.  The Bluegrass, Crab, Seafood, and Catfish Festivals are held during the summer, while the Water Festival is held in early autumn.  The parish also hosts a Civil War Reenactment in May and Pirouge Races in June.
by Alana A. Carmon