Located along the Mississippi River in an area historically known as the Acadian Coast, Ascension Parish was one of the original parishes created by the territorial government in 1807.  The parish was initially settled by the Houma tribe and Acadian refugees who had migrated to Louisiana after more than a decade of exile in Maryland and Pennsylvania.  The Acadian pioneers established prosperous small farms along the Mississippi River.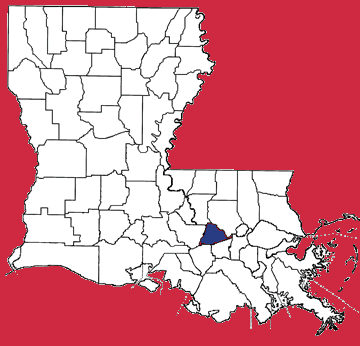 In the early nineteenth century, these small farms were replaced by plantations, and, by the Civil War, the parish was one of the nation's most important sugar producing areas.  Today, agriculture and the petro-chemical industry constitute the foundations of the local economy.  Divided by the Mississippi River, Ascension Parish's two major geographical components have very different demographic and economic profiles.  These differences are mirrored in the parishes eastern and western "capitals"—Gonzales and Donaldsonville.
Donaldsonville, the present seat of government and justice in Ascension Parish, served as the state capital in 1830-31.  Located at the junction of the Mississippi River and Bayou Lafourche, a major Mississippi distributary, the town was a regional communications and transportation hub as well as a flourishing steamboat shipping center. Largely destroyed by the Union navy during the Civil War, the town was rebuilt in the postbellum period, and it boasts one of the South's best collections of late nineteenth-century river town architecture.
Gonzales, located on the eastern bank of the Mississippi River, emerged as a regional governmental center and economic hub in the late twentieth century. Much of the town's recent economic development stems from its proximity to Interstate 10.  Tourists will find a major outlet mall on the outskirts of Gonzales.
Ascension Parish offers visitors access to numerous important cultural and historical attractions.
by Carl A. Brasseaux